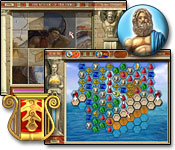 Someone has stolen the scepter with which Zeus controls Heaven and Earth. In Heroes of Hellas, you'll travel through Ancient Greece and into Hades to find the thief and return the scepter to its rightful owner. As you progress, the greatest heroes of ancient times, including Hercules, Perseus and others, will lend a hand. Even Zeus himself will provide assistance. Upon completing this daunting task, you'll earn the gratitude of the gods and see your name appear in the Assembly of Heroes.
As a reward for your help, you'll explore nine exciting myths describing the awesome feats of the heroes. In addition, you'll earn trophies and build a beautiful palace with the help of Hephaestus, the god of the fire of blacksmiths. Last but not least, you'll be given the chance to unlock seven gorgeous mosaics illustrating the exploits of the heroes, all of which can be saved as desktop wallpaper.
Seven unique heroes to utilize
Nine myths to explore
Seven stunning desktop wallpapers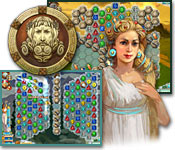 Build a city from the ashes of a fallen civilization and rule your people with wisdom and justice in Heroes of Hellas 2: Olympia. A mix of addictive match-three gameplay and city building fun, Heroes of Hellas 2 challenges you to drag your mouse across chains of identical items to remove obstacles, activate bonus items and collect valuable objects.
Dazzling visual effects will ignite your screen as you unleash powerful lightning strikes and call upon the gods to cast spells. Between levels, you can play one of eight captivating mini-games and spend the gold you earn on new buildings and upgrades for your city. Keep the people happy and they'll sing your praises in the streets; leave them to starve and you'll incur the wrath of the gods.
Once you complete the Campaign Mode, you can play again to earn all of the trophies, try to beat the game on a higher difficulty setting or play one of the additional modes for an extended experience. Packed with dozens of hours of game time, Heroes of Hellas 2 is as epic as the classic stories that inspired it!
Over 90 levels
Eight mini-games
Four game modes
Three difficulty settings
Eight desktop wallpapers
Heroes of Hellas is a match-3 game with a background story based on Greek mythology. Over the course of the game, the player recruits Greek heroes, and in the process gets to see the fantasy artwork for the hero and the opportunity to get a wallpaper based on the art.
Heroes of Hellas 2: Olympia is a match-3 game with a background story based on Greek mythology and which incorporates city-building. Over the course of the game, the player can unlock various wallpapers with fantasy Greek artwork.