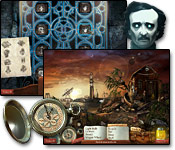 Use your famous mystery-writing skills to help solve an ancient homicide and capture Edgar Allan Poe`s murderer! Follow your ghostly guides through Poe`s classic tales as you meet the different suspects in this dark and haunting Hidden Object game. Find inspiration for your next book as you collect clues, interview witnesses, and crack the centuries-old crime in Midnight Mysteries: The Edgar Allan Poe Conspiracy!
Fantasy game art from Midnight Mysteries: The Edgar Allan Poe Conspiracy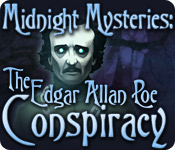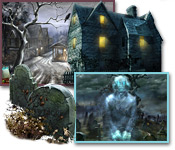 The famed writer Nathaniel Hawthorne has died during a freak snow storm, and his ghost has come to you, asking for help. Travel back and forth in time from the scene of the author's demise to the 17th century, where a town is going mad with rumors of witchcraft and a woman is facing the gallows. Unravel the secrets of Salem's accused witches and solve the death of Hawthorne in Midnight Mysteries: Salem Witch Trials, a fun Hidden Object game. This second title in the Midnight Mysteries series features even more cutscenes and ghostly and supernatural events.
Fantasy game art from Midnight Mysteries 2: The Salem Witch Trials